Update 11PM EDT 22 June 2023

Tropical Storm Cindy has formed east of Bret in the Central Atlantic and is forecast to remain north of the Caribbean islands, although folks there and Bermuda should keep watch on it as it is forecast to weaken once it gets north of the islands because of deep layer shear.

The center of Bret is currently moving over St. Vincent in the Caribbean, but most of the heavy weather is displaced to the east of the center. As mid level shear has begun to weaken it already, as the convection moves over some flooding rains may occur in some of the islands. Once past the islands Bret is forecast to dissipate on Saturday.

Update 6:30 AM EDT 22 June 2023
Tropical Depression Four has formed in the Central Atlantic east of Bret (Was 93L), The system is currently forecast to be a Tropical Storm and stay away from the Islands.

Bret, however, is moving west now with 70mph winds and strengthened some overnight, thus

A Hurricane Watch is in effect for St. Lucia now in case Bret strengthens more, and Tropical Storm Warnings are up there as well as Dominica and Martinique, while Tropical Storm watches are up for Barbados, St. Vincent and the Grenadines.

Since then the convective burst has waned so it likely won't strengthen much more as it starts to head more shear later today.



Update 2AM EDT 22 June 2023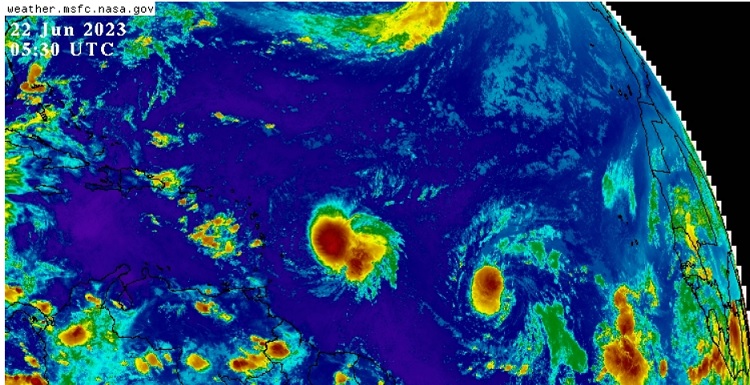 Above (Left to right): Bret, 93L, Wave, Wave,

Recon investigating Bret tonight has found a pressure drop to at least 996mb and a wide swath of winds in the northern portion of the cyclone well into the uppermost tropical storm force range and possibly better. It is conceivable Bret will be upgraded to a hurricane later this morning.

Elsewhere, it appears that Invest 93L will likely be formally declared a TC this morning as it tracks behind Bret. At present, no significant model support to suggest it will threaten land, but this many days out leaves lots of air, ocean and time left in play.

Behind 93L are two more waves of some interest, although not yet Invest tagged.
Ciel


Update 5PM EDT 21 June 2023
Recon Aircraft has found the Tropical Storm Bret has strengthened to a 65mph storm, is forecast to remain so at it approaches the islands. After it gets into the Caribbean its expected to continue heading west and hit a lot of shear which should weaken and eventually open it up back into a wave. After this it is likely to drift into Central America and potentially reform as an Eastern Pacific system. However, this system should still be monitored for any changes.

A Tropical Storm Warnings are up for St. Lucia and Martinique while watches are up for Barbados, St. Vincent, the Grenadines, and Dominica.

93L has an 80% chance to develop east of Bret, and off Africa is another system that may be worth watching, although that is entrained in a lot of dry air.


Update 6:45AM EDT 20 June 2023

Tropical Storm Bret has maintained itself overnight but has a chance to strengthen today. The forecast remains low confidence currently as the track (and strength) of the system is highly dependent on each other this go around. There's a high likelihood the track may be adjusted further south if Bret remains weaker, but conversely if it strengthens enough to get steer impacts from the higher levels in the atmosphere it may start to move more north.

The current forecast does get it to hurricane strength, but then weakens it due to shear and dry air as it get very close to and withing the Caribbean. Those in the Lesser Antilles should monitor it closely. It should be in range of Recon aircraft on Wednesday which should improve the forecast.

93L Behind Bret should also be watched, but it is much more likely to be curve north of the island. This system now has a 70% chance to develop.

One of the signs that Bret won't ramp up much today is the fact the center is displaced to the west of the convection, shown by visible satellite and microwave imagery.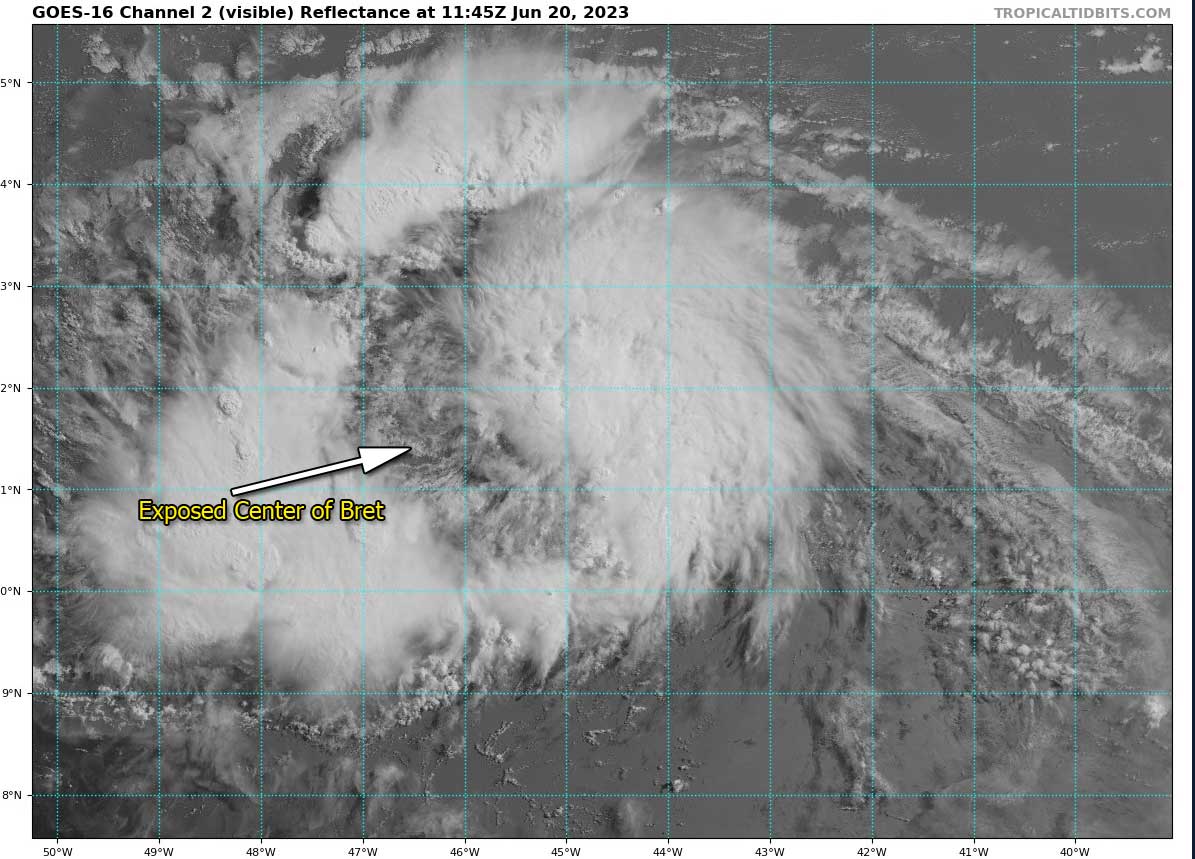 Update 4:45PM EDT 19 June 2023
Tropical Storm Bret has formed in the Central Atlantic from TD#3. This ties the earliest named storm in the Main Development Region of the Atlantic (MDR) with 2017's Bret (Which also formed June 19th).

Bret should be watched closely by those in the forecast area in the Eastern Caribbean. Beyond this it should be monitored, but Bret likely will be torn apart by shear in the Caribbean.

93L east of Bret in the Atlantic now has a 50% chance for development over the next 7 days, but is more likely to stay out to sea than Bret was, but still should be monitored also.

Update 1:30PM ET June 19
Advisories have been initiated on TD THREE from Invest 92L. The tropical cyclone has formed in the Main Development Region of the deep Tropical Atlantic from a wave that rolled off Africa, something we do not typically see until much later, during the "Cape Verde Season" (sub-season of the Atlantic Hurricane Season).

THREE is on the cusp of being upgraded to the third storm and second tropical storm of the 2023 season, with the name of Bret. On the current official forecast, future Bret would become both the easternmost forming any tropical storm during the month of June on record, as well as the earliest for the deep tropics.

While models are exceptionally bullish on future Bret's intensity, with many runs calling for a Major, there is an appreciable amount of shear present and expected over and around the Caribbean, owing to a strong sub-tropical jet consistent with El Niños, and this may prove challenging for the cyclone, with other runs suggesting that rapid weakening is a real possibility.

Intensity forecasts are typically less reliable than track, and until we begin collecting a lot more data from recon missions, models are lacking good input. In future Bret's case, intensity is likely going to make or break track. A weaker Bret would feel more of the low-level easterlies and have an easier time getting into the Caribbean, whereas a much stronger Bret could get deflected north, perhaps even bypassing the Antilles altogether.

Elsewhere, Invest 93L behind THREE continues to organize. Like THREE ahead of it, this is an astonishing location for the time of year. The Atlantic ocean is record warm for the date. El Niños are definitely not the only driver of hurricane activity.
-Ciel

Original Update
In the Atlantic it's June 18th, and we have one system on the verge of becoming the second named storm of the season, Invest 92L in the main development region, which is extremely rare to see activity in June. Another area east of it with a 20% chance to develop to the east of Invest 92Ll.

And another area that's much less likely, but can be mentioned since it has a lot of convection, near Panama that could try to develop briefly as well.

The two Main Development Region (MDR) are more likely to develop soon, whereas the Panama only has support and less likely to develop (although impacts may be felt sooner). 92L could approach the leeward islands of the Caribbean as early as Thursday or Friday. Although if it does move toward the islands its more likely to be on the weaker side.

In any case it's prudent to keep an eye on the tropics right now, and the activity may be higher this year than last year,, or at least earlier than the late arrivals until September.





For model speculation and more see the Forecast Lounge



Bret Event Related Links





SFWMD Model Plot (Animated Model Plot) SFWMD Hurricane Page


[https://flhurricane.com/floatanimator.php?year=2023&storm=3 Flhurricane Satellite Floater Animation of Bret
GOES Floater
Animated Model Plot of Bret



Clark Evans Track Model Plot of Bret (Animated!) Model Plots in Google Earth - In Google Maps
Clark Evans Intensity Model Plot of Bret (Animated!)

Clark Evans Track Plot of Bret

Clark Evans Top 10 Analog Storms for Bret
More model runs on from RAL/Jonathan Vigh's page
NRL Info on Bret -- RAMMB Info
COD Atlantic Satellite View


Cindy Event Related Links





SFWMD Model Plot (Animated Model Plot) SFWMD Hurricane Page


[https://flhurricane.com/floatanimator.php?year=2023&storm=4 Flhurricane Satellite Floater Animation of Cindy
GOES Floater
Animated Model Plot of Cindy



Clark Evans Track Model Plot of Cindy (Animated!) Model Plots in Google Earth - In Google Maps
Clark Evans Intensity Model Plot of Cindy (Animated!)

Clark Evans Track Plot of Cindy

Clark Evans Top 10 Analog Storms for Cindy
More model runs on from RAL/Jonathan Vigh's page
NRL Info on Cindy -- RAMMB Info
COD Atlantic Satellite View


StormCarib Reports from the Caribbean Islands

Caribbean Weather Observations

Full Caribbean Radar Composite

Caribbean Broadcast Corporation (TV/Radio from Antilles)

San Juan, PR NWS Page

Various Caribbean Radio Stations

DR1 Dominican Republic Hurricanes